Insound Tour Support #18
2001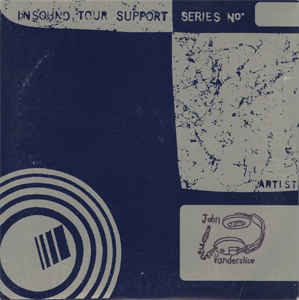 Credits & Notes
Recorded at Tiny Telephone by Scott Solter (1, 7), John Croslin (5) and Bob Weston (3, 4 and 6; which were recorded with great anxiety live to two-track). Except (2) recorded by Jim Eno, (5) remixed by Chris Walla at The Hall Of Justice
Mixed by John Croslin (1, 2), Bob Weston (3, 4, 6), and JV (7) at Tiny Telephone. Mastered by Cros.
"Amitriptyline" and is new and unreleased.
"Time Travel Is Lonely," "You Were My Fiji" and "Keep the Dream Alive" appear in different form on the forthcoming Barsuk CD release Time Travel Is Lonely (bark17)
"I Miss The War" appears originally on the MK Ultra CD The Dream Is Over
"Speed Lab" remixed from Barsuk CD release Mass Suicide Occult Figurines (bark14)
Drums: Gavin Foster (1, 3, 4, 6, 7), Jim Eno (2), Matt Torrey (5)
Guitar: Logan Hedin (3, 4, 6), Britt Daniel (2), John Tyner (5)
Chapman Stick: Alex Nahas (3, 4, 6), Bass: Dan Carr (5)
Trumpet: Bill Swan (6), Harmony Vocal: Carlos Forster (6)
Graphics by Sam Trout, samtrout.com
All songs (c) (p) 2001 Primers of the Pulse Sound BMI
Mad love to MK Ultra compatriots for help and support:
Matt Torrey, Danno Carr, and John Tyner
1 Amitriptyline
drums: gavin foster
scott tracked the drums, croslin recorded the vocals.
the songs starts with a rhythm ace beat that has been multed out to three tracks, like this:
(1, left) rhythm ace > ampex mx 10 > aphex gate
(2, center) rhythm ace > neve 1089 > urei 1176
(3, right) rhythm ace > neve 1089 > urei 1176 > h3000 harmonizer (delay patch) > kepex gate
scott recorded the drums with four mics: a U87 behind the kick, a RCA BK5 pointing at gavin (near the rack tom), a shure podium mic (under a felt hat!), and a sennheiser 421 (which had horse hooves strung on the stand which gav was hitting). this is my favorite recording of drums ever, thank you solter. you can hear these sounds isolated on the last song, "saturation dose," which is a remix of "amitriptyline" using mostly drum tracks.
2 Time Travel is Lonely (with Spoon)
drums: jim eno
guitar: britt daniel
drums and guitar recorded by jim eno at spoon studios
I was asked to play the listen.com party at sxsw 2000, I hadn't played live since my band, mk ultra, broke up. so I asked jim if he would play with me (as vanderspoon). britt joined us for "dream is over" and "time travel is lonely." afterwards we decided to record it. jim mailed me the 2″ tape with drums and multiple tracks of britt playing his ventura, I added vocals, realistic MG-1, moog source, samples of bach harpsichord sonatas, and bass. the reverb effect at the end was achieved by sending tracks to a h3000 and recording the returns, erasing the rest of the tracks later.
3 I Miss The War
4 You Were My Fiji
drums: gavin foster
chapman stick, vocals: alex nahas
guitar: logan hedin
recorded by bob weston, live to tiny telephone's ATR 100 2-track running at 30 ips.
outtakes of the session are here in mp3
mics used: audio technica 4033 (bass side of stick), AT pro 37r (guitar side of stick), B&K (not sure of the model, used as room mics), neumann U87 (jv vocals), schoeps 221b (jv acoustic), U67 (drum overhead), akg d112 (kick), sennheiser 405 (snare), RCA BK5 (logan guitar). bob used the mic pres in the neve 5316 and very little compression.
5 Speed Lab (Chris Walla robot mix)
drums: matt torrey
bass, vocals: danno carr
guitars: john tyner
this is an old mk ultra song recorded by john croslin as we were breaking up. here's the original version in mp3.
remixed by death cab's resident genius, chris walla at hall of justice (which used to be stu and john's place, a very famous NW studio). extreme, abstract, and uncomprimising. thank you chris!
6 Keep The Dream Alive
trumpet: bill swan
harmony vocal: carlos forster
recorded by bob weston, done in the same session as "fiji" and "war."
additional mics: coles 4038 (trumpet), shure sm7 (carlos)
7 Saturation Dose
a jv remix of "amitriptyline," using mostly drum and synth tracks.
Lyrics
1 amitriptyline
so long, goodbye
by order of the pasadena court
so long, goodbye
500 milligrams are needed everyday,
held down by a pharmaceutical hand,
are needed everyday, so we can regulate
my uncontrollable urge
remember me as I was,
too much life, and oh too much love
last week my lastly stunning stunt,
top tier, my jumping chandelier
that's why I'm here…
amitriptyline
I was a quiet, lunchbox lonely little boy
reading sci-fi, broken treehouse on the shore
at nineteen the talking in my head got harder to understand,
no work, no school, drifting, a failing satellite
don't feel sorry for me I've been happy too
manic, kindly, blinding, high-res euphoria
remember me as I was,
the clowning judge, the crowning dove,
sad king alone in the western wing
holding foe's laughing, severed head
that's why I'm here…
amitriptyline
2 time travel is lonely
hold on, keep it together
hold on
no one, no one has ever
made it so far in time
no one knows what happens next
because time travel is lonely
listen,
wear your headphones,
and I'll whisper you the code
3 I Miss the War
I wish the war was on,
I know this sounds strange to you.
I miss the war-time life,
anything could happen then:
around a corner, behind a door.
I miss the canon fire,
I miss the air strikes at night.
Down on the basement floor,
we held each other tight,
it rained plaster, it rained glass,
we held on for our life.
I wish the war was on,
I know this sounds strange to you.
My poor crippled con,
my sad one-legged Jew,
I see what it's done to you.
I wish the war was on,
we really worked together then.
Do you remember when
you held the horse, I slit his throat,
the blood ran, melting the snow?
When the meat was carved
the children screamed
and the women cheered.
4 you were my fiji
oh we kissed only once,
in your stripped out apartment,
You sold your furniture,
so we kissed on the carpet.
it's like a whaling ship
oh, is being on tour you know,
next day you gotta set sail
in your 350 Ford
you were my fiji,
o believe me
those hours with you they
only expand
o you, you were my fiji
o believe me
but I fell in love with
somebody else's sand
somebody else's dry land
you're a stripper now,
in new orleans
fucking whale sank my van and
took my shipmates into the sea.
5 speed lab
speed lab,
on the edge of
an artichoke farm,
we worked through harm
tweaked and well-paid,
we forgave
what the chemicals did
to our hands, lungs and face,
clearly marking our fall from grace.
speed lab,
sun sang through eucalyptus,
we sang along!
Angela,
I met her there,
sweating out the San Francisco run
every hotel on the five
was our very own pleasure dive.
speed lab
givith and taketh away,
the love, tender loving, money, money spending
was before the fire, the DEA.
Those who survived the fire fled alone,
I know that God hates alchemical work,
I loved him lonely, but in the end
what else to do but begin again…
speed lab
6 keep the dream alive
one, two, three, five,
the night is only half alive
the curtains blow the frightened tress,
they line the moonlit windy beach
four five six seven,
my dreams never touched on heaven,
they come, they stream they laugh they bleed,
they drop me off in a thicket of reeds
keep the dream alive
I dreamed he found his way back there,
the campsite though was stripped out bare,
the night was only half-alive
skinned raccoons hung from a line
for men there is no turning back,
they all had left with coonskin caps,
the embers smoked and barley glowed,
he gathered wood and started his own fire
keep the dream alive